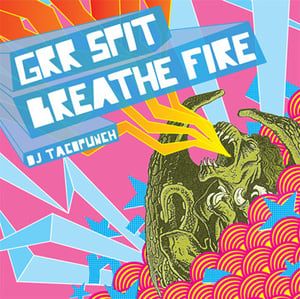 $

5.00
80 minutes of ass shaking, head banging, party starting dynamite! Side B is exclusive to the CD. Comes with full color artwork on a printed CDR.
SIDE A - GRR SPIT BREATHE FIRE!!! ( Stream Here )
Realicide - Cincinnati Speedcore 2009
M1DY - Cold Pizza
Tacopunch - Tacogrind Megamix Mash Party (ALL HAIL ABLETON)*
Dragon Force - Once In A Lifetime (Eustatian Rmx)
Die!!Die!!Color!!! - Trust
DJ Sharpnel - Sound of the Underground
DJ Technorch - AXS
Underworld - Born Slippy.NUXX
Missile Chewbacca - Laid-Back Aliens!! (Are U Not Men?)
The Lonely Island - On A Boat (Royb0t RMX)
Captain Ahab - Party Baby
Sickboy - Bohemian Crapsody
Droon - Cripplefight
*contents
Terminal 11 - Birds (Eustachian Remix)
Maruosa - Death Stretch
Harpoon - Bad Beekeeper
Pig Destroyer - Rotten Yellow
The Locust - The Half Eaten Sausage Would Like to See You in His Office
Guns N Roses - November Rain
Error - Nothing's Working
Eustachian - Bay Shore Terror
Agoraphobic Nosebleed - Agoranoticon Xanophobic Mix
SIDE B - SPREAD THIS AROUND LIKE PEANUT BUTTER AND JELLY!!!
Jucifer - Armageddon
Slyer - Angel of Death
Amon Tobin - Angel of Theft
m11dy - ASYURA BAMBA Remix by FFF
FFF - Murderer
Royb0t - C0pkiller
Cycheouts Ghost - SPK
Wagdug Futuristic Unity - Why x Ceephax Acid Krew
DJ 0.000001 vs. Die Antwoord - Beat Boy
Captain Ahab - Death to False Techno
Die Antwoord - Orinoco Ninja Flow (Wedding DJ's Remix)
Tacogrind Industries 003
Mixed by Tacopunch 2010
Artwork by John Leonard of Coex System
Neuromancer is alive